So let's go back in time two months ago.  I was hard at work perusing the internets, when my girlfriend asked if I wanted to go to the Chili-Takedown…yeah, sounds good.  I didn't make it there, but she showed me pictures of what went down.  A week or so later, she sends me another link to something called the Bacon-Takedown. I entered figuring it would be full-up by the time I responded, but alas, no, the venerable and always eccentric Matt Timms emailed me quickly on what the contest entailed.
Skip forward a month and I didn't have a dish for the contest…for shame.  What could I make that was affordable (each contestant has to provide 300 bites) and at the same time different (**ha! we'll get to that), than everyone elses?
It came to me so fast one day that I called everyone I could think, much to their annoyance.  Tamales, bacon tamales.  And not just bacon, inside the tamales was going to be pork belly, that wonderful precursor to the bacon we so enjoy.  And studded throughout the masa, for the traditionalist were perfect pieces of bacon bits (homemade mind you.)
So a couple of nights ago, I did my test run.   Everything came out like I wanted it to, but there were some overall truths about them I think I can fix.  1. They were a bit dry.  2. The pork belly was a bit tough. 3. There needed to be a sauce over it.
So fair enough, I've got plans for the winning batch, and we shall see what happens this Sunday, March 29 at 5 pm at the Radegast Beerhall in Brooklyn, New York.
**This just in, while reading the three page spread on the Bacon-Takedown and all things bacon in The New York Post, I found that a one Jennifer Sanders, 32, of the Upper East Side is making "bacon tamales" with three kinds of bacon.  And to Jennifer Sanders, all I can say is, I don't know how close the Upper East Side is to Mexico, but I do know Texas is closer.  You're going down.
On with the pics.
Ah yes, pork belly slow braised with good spices and ish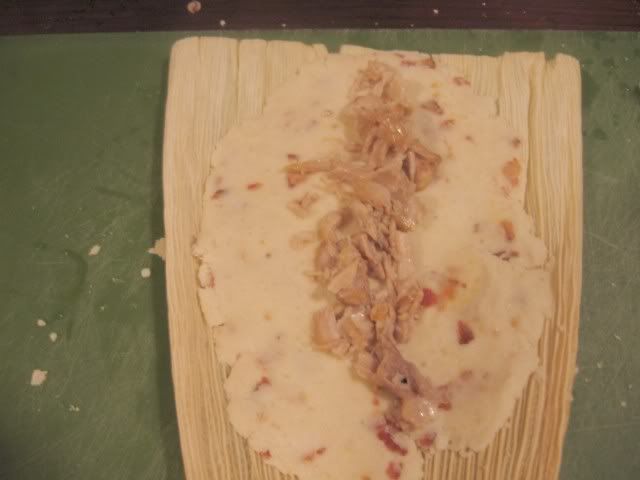 Success, the bacon is totally studed throughout the masa..which was also made with lard….yum.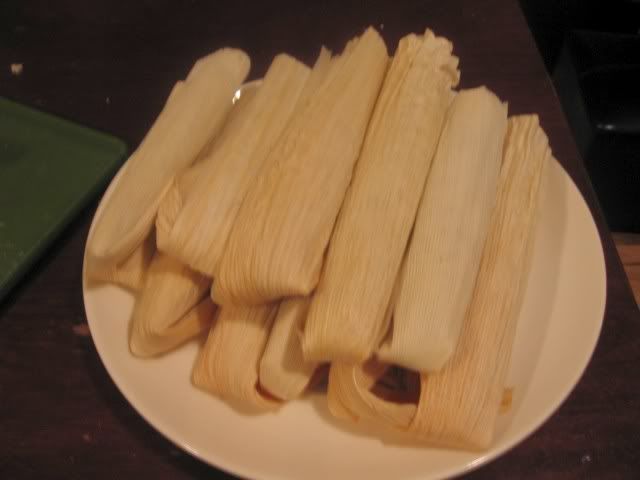 looka here, itsa tamales. I godda da recipe from mi sangre, Chato.